Cafe Boricua
4 Bags 14oz ea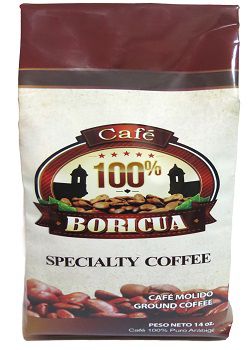 Cafe Boricua
4 Bags 14oz ea
On Sale $29.66
Cafe de Puerto Rico Cafe Boricua, Cafe Boricua Coffee from Puerto RIco

Cafe Boricua
Pure Ground Coffee
100% from Puerto Rico
NEW PRODUCT
LOWEST PRICE ON THE INTERNET

Cafe Boricua retains the tradition of our ancestors. Cafe Boricua its 100% Coffee from Puerto Rico, Arabica beans that gives our customers the great aroma of sweet chocolaty. Wakes up the mountainous spirit on our customers. To have a cup of Cafe Boricua will produce thoughts of our beautifull Puerto Rico and our traditions.
Specialty Coffee
Cafe Yaucono, Cafe Crema, Cafe Rico, Cafe Alto Grande, Cafe Yaucono Selecto
Cafe Garrido, Cafe Casa Grande, Cafe Yauco Selecto, Cafe Mami
Cafe de mi Tierra, Cafe el Coqui, Cafe D' Aqui, Cafe del Patio
Cafe Adjuntas, Cafe Altura, Cafe Florinata, Cafe de Oro
Cafe Aroma del Cielo, Cafe Monteriqueño, Cafe Mis Abuelos, Cafe Lareño, Cafe Gustos, Cafe Encantos https://www.paypal.com/cgi-bin/webscr?cmd=_s-xclick&hosted_button_id=LUYWBSXAC5BT8

Cafe de Puerto Rico Cafe Boricua, Cafe Boricua Coffee from Puerto RIco