Paella Valenciana
Family size 16onzs



Click Here for elColmadito.com Online Store
(Products by Categories)

Paella Valenciana
Family size 16onzs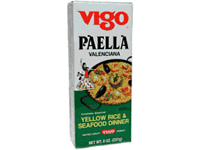 Paella Valenciana
Family size 16onzs



Paella Valenciana
Tamaņo Familiar

Ingredients 1 PACKAGE COMPLETELY SEASONED VIGO YELLOW RICE: Enriched Rice, Thiamin, Folic Acid, Dehydrated Vegetables, Salt, Monosodium Glutamate, Corn Cereal Solids, Garlic, Natural Flavor, Partially Hydrogenated Soybean and Cottonseed Oil, Dehydrated Chicken, Sugar, Spices, Artificial Color.
1 CAN ASSORTED SPANISH SEAFOOD AND VEGETABLES: Squid, Mussels, Cockle, Peas, Carrots, French Beans, Pimientos, and Sauce prepared with Olive Oil and spices, Salt Added.
Recipe Serve in same saucepan, garnish with shrimp, clams in shells, additional peas and lemon wedges, as shown in picture. This package includes completely seasoned yellow rice and a can containing a variety of seafood, and makes a complete dinner.